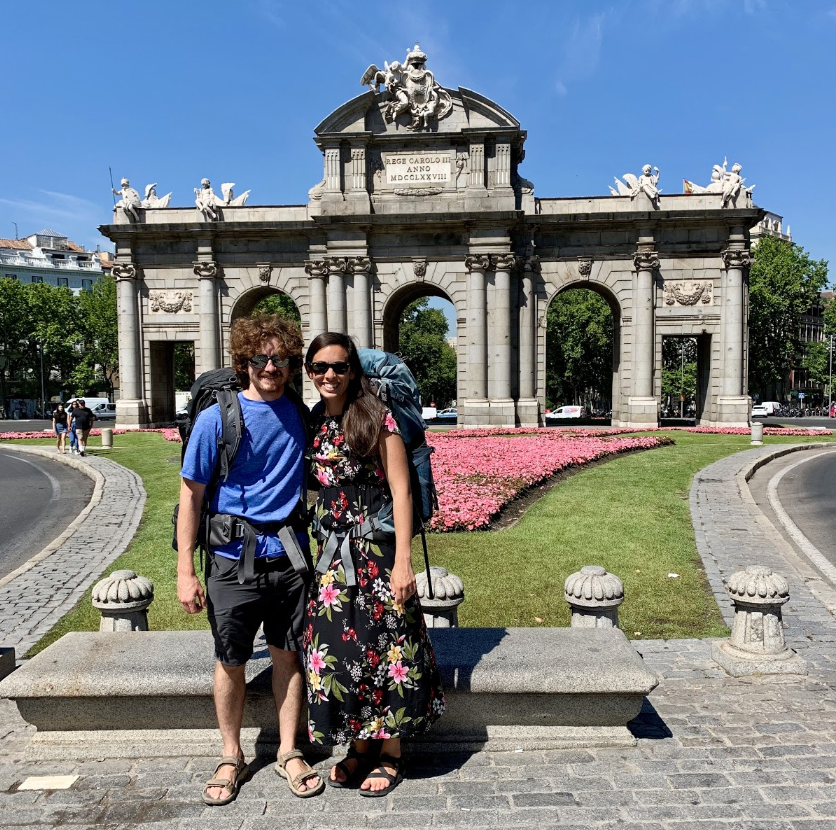 The Nomadic Fitzpatrick // Our Round the World Trip!
Jennifer Fitzpatrick

Jennifer is a Spanish teacher and gluten-free travel blogger living in Salem, Massachusetts.  She writes gluten-free travel guides for Gluten-Free Living Magazine and enjoys hiking in nature as much as possible.  Jen and her husband Dylan spent six months backpacking around the world this year to more than twelve countries. Jen is passionate about encouraging others to travel with celiac disease and to explore as much as possible. 

For gluten-free travel guides, recipes and epic hikes, follow her on Instagram @jefinner589 or check out her website www.thenomadicfitzpatricks.com.
There was a lot of planning and preparation that went into a trip of this size. It took two years to get everything set into place.  We saved money by limiting our expenses, traveling only locally and within the United States with airline points, and putting away money in savings.  Dylan and I also asked for sabbaticals from our employers very early (over a year in advance).
As a teacher, I was able to secure an entire school year off.  Dylan was able to obtain six months off as an engineer. In December of 2018, we also gave up our apartment rental, donated/sold many of our belongings, and placed everything else in storage.  This brought our lodging expenses from $1500 a month to $120 a month. It also eliminated bills such as car insurance (we left them at the homes of family members), gas, heat, electricity, and cable.  The last two weeks of December we visited family for the holidays before embarking on our epic journey!

I planned out the first two months of our trip before we left.  Dylan and I preferred the flexibility of choosing where we wanted to go and being able to change our minds.  On March 1st, we had a flight to Bangkok, Thailand, but that was it! The rest of the trip we left open-ended with a few ideas for where we'd likely end up.  While this may sound crazy, it actually gave us more freedom, better airline ticket prices, and opportunities to explore places that we never expected.
Travel Hacking & Saving Money
To help maximize our time but not throw away our entire budget, we chose to balance visiting a few, more pricey countries with many cheaper destinations.  In the countries that were more expensive, we ate simply, stayed in hostels, and limited our excursions. Toward the end of our trip, we sent items home that we no longer needed and learned to travel lighter - less weight to carry, less to worry about, and it was easier to get around from place to place.  We traveled by bus, train, plane, and rented a car in South America, New Zealand, and Italy.
Dylan and I spent a lot of time in Southeast Asia (over two months) - Bali, Thailand, and Nepal were some of our longest stays and each of them was extremely reasonable and helped maximize our dollar.  In Bali we enjoyed three course dinners for $5, and stayed in a private air conditioned suite (with breakfast) for only $19 a night! 
Travel Hacking was one of the best ways we saved money on our trip! By utilizing credit card benefits like the Priority Pass, we had free food and access to airport lounges all over the world. We used hotel points for free stays and traded in points for airline tickets. In total, we saved almost $2,000 using travel hacks!

After hiking the Inca Trail to Machu Picchu for four days, we explored Cusco before continuing to Buenos Aires, Argentina, and finally, the region of Patagonia. In February, we flew to New Zealand and did a two week road trip along the South Island before spending a week in Sydney, Australia.  The end of February was spent in Bali, Indonesia, enjoying the relaxing and tropical Ubud. Most of March was spent exploring the cities, mountains, and beaches of Thailand, which became one of our favorite destinations. At the end of March, we visited Hong Kong, marveling at this modern and cosmopolitan city before heading to Nepal. 
In Nepal, Dylan thrived and I struggled.  The culture shock was overwhelming, and I also got very sick and had to be hospitalized for 24 hours for a bad GI bug.  Thankfully I was well taken care of and recovered quickly! We explored Kathmandu and Pokhara, and trekked seven days to Annapurna Base Camp.  On Easter Sunday, we managed to snag a flight to Europe which included a 12-hour layover in Rome. We saw the Vatican underneath the moonlight after a late night pizza & gelato!
Favorite Moments & Funny Memories
So many people ask about what our favorite countries were on this trip, but I don't really think of it that way.  I tend to focus on the moments in time, and the connections we made with others around the world in so many different cultures, landscapes, religions, backgrounds, and languages!  We chose to visit the places we did for specific reasons, and gained so much from our time there.
Hiking a portion of the Camino de Santiago in Spain for two weeks pushed me more than anything else on the trip. We only hiked 165 miles of this 500+ mile journey, but it taught me more about myself and my own resilience than ever before! It rained a lot during those two weeks - there were lots of wet socks and shoes, ponchos, hungry afternoons, and lessons in motivation.  
Getting a stomach bug in Nepal was also a very challenging 48 hours. Thankfully we had such wonderful people to help me, get me the medicine and rest that was needed, so I could continue enjoying our travels. Dylan and I even got to ride in a helicopter, which was pretty neat!  
When traveling, things will go wrong, and this trip was an exercise in letting go, patience, and acceptance that what's meant to be will find a way. I definitely got much better at surrendering control toward the end of our trip, like when we got our rental car stuck in a ditch on a dirt road in Tuscany. I was cool as a cucumber, and knew that we'd figure it out. Twenty minutes later, a worker from the farm we stayed at drove over his tractor and pulled us out - without a single scratch!
I have celiac disease and now have made it my mission to share gluten-free travel with as many people as possible.  Just because your diet is restricted doesn't mean your passport has to be, too!
Until our next adventure, I'll keep dreaming of these memories and planning our next steps at the Nomadic Fitzpatricks.