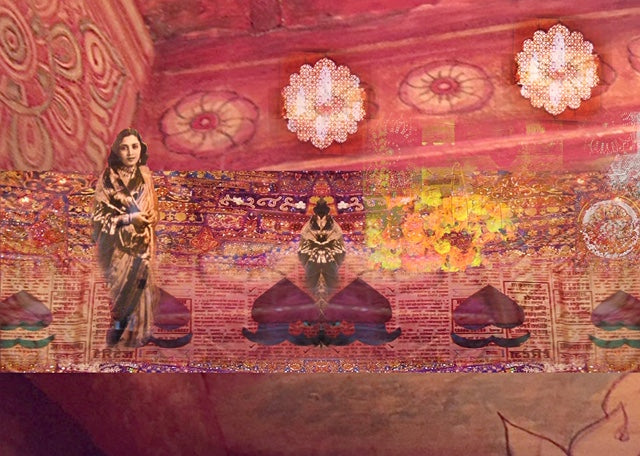 JASMINE & JAIN // Behind the Design
Alison ᐤ Jane
alison ᐤ jane is a union of two women who met in college and quickly realized a mutual love of travel and textiles. Study in both India and Greece underscored a great pull to multicultural influences and indigenous cultures. Over the years the two women have continued to explore and expand their knowledge of other countries during journeys together across the globe, as they incorporate bespoke experiences, ethnic art and folkloric significance into their creative endeavors.
We were inspired on an early morning visit to the flower market in Jaipur, India. Surrounded by a sea of people wearing vibrant and geometric patterns, we stepped over and around bulging bundles of golden marigolds and fragrant rose petals. All of this was a glimpse of both royal and diverse Jaipur. The painted and layered canvas titled Jasmine and Jain came to life. The scarf is an adaption from the full canvas. 
Most often there is an idea to convey or colors that prevail to carry through the content. As designers of multimedia, the process may be limitless. There are numerous avenues to incorporate images and color. Often we decide on either antique or contemporary papers, at times using the transfer process, found objects or fabric to layer and blend with paint. Tools may include a toothpick, knife, dental tools, rag, glass, toothbrushes, etc.. limitless as well! 
Much further in the process, the top most layers are formed. The piece itself indicates texture whether it be wax, gloss, matte, or possibly folded fabric. We return to the canvas multiple times during the process, always open to changes. It is ongoing , marrying the story to the textures and hues.
There were four main inspirational forces behind this pattern.  
This is final canvas of the original Jasmine and Jain design.
The scarf textile design was an adaptation of the full canvas design.
It is a reminder of the beauty and light in the frenzied pace of the morning market ritual where flowers are weighed, bought and sold to adorn altars for prayer, for weddings and for funerals. The all encompassing aspects of Indian life are celebrated with intoxicating scents and vibrant shades and hues . The colors chosen for Jasmine & Jain are high energy tones to reflect the rhythm of the market and the general assault of the senses that we call India.