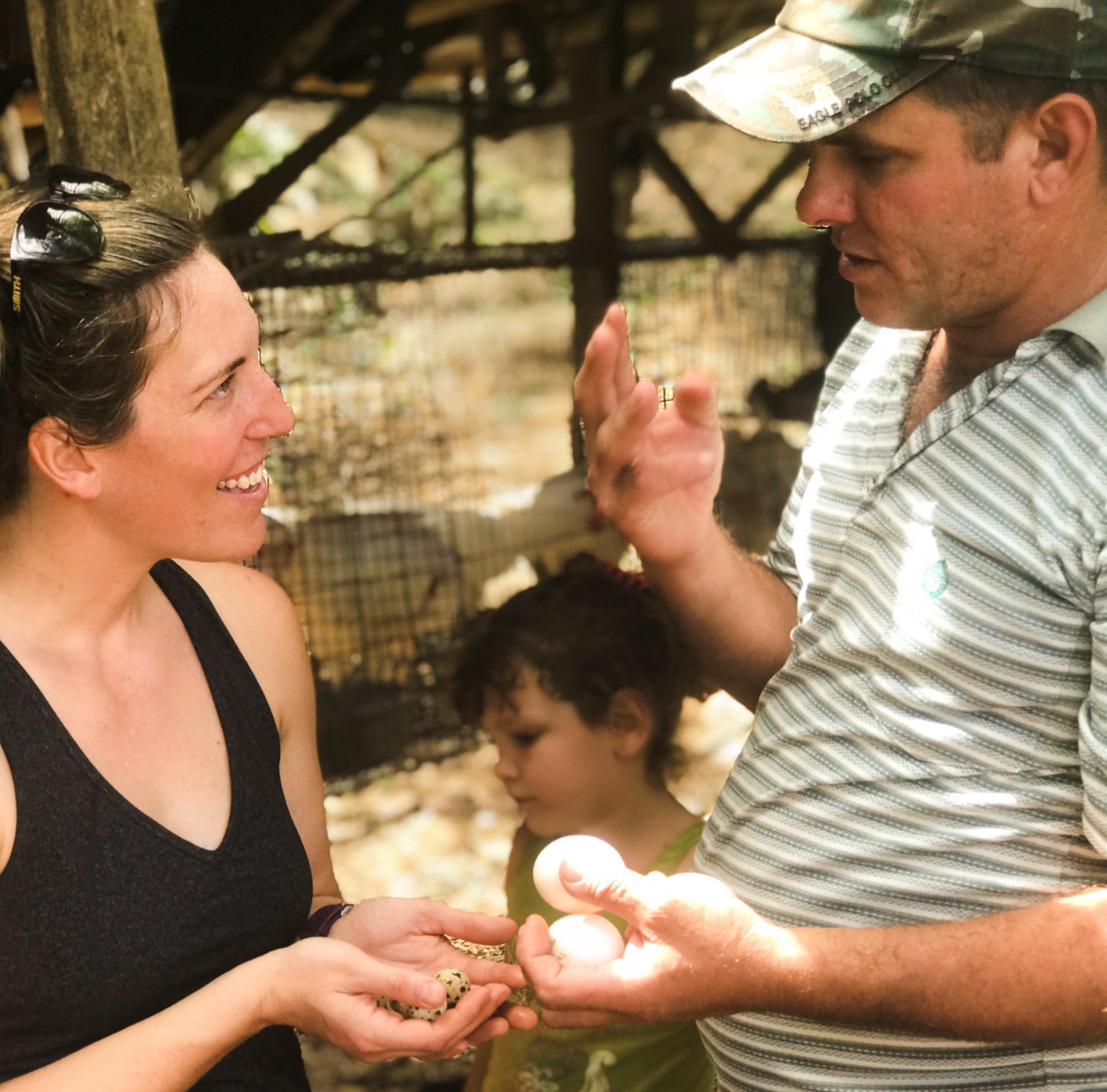 5 Airbnb Experiences to see the Authentic Havana
Here were my favorite 5 AirBNB experiences that helped me get to see the real and most authentic sides to Havana
In an attempt to both make use of my short time in Havana and to fulfill my obligation to "keep a full schedule" to satisfy the Cuban Travel Regulations (see this great blog on how to follow the rules and visit Cuba), I prebooked a lot of experiences. 
Here are 5 of my favorite:
This experience was booked for my very first night in Havana and it was perfect! Ariel was a great host and walked us through how to make our own Cuban cocktails! It was a perfect introduction to Havana!
Ariel is the host of Cuban Spirits and is a jovial guy who seems to always have a smile on his face and a cocktail in hand.  Our small group consisted of Ariel, myself and two Turkish guys who were on their last night in Havana. We headed to the beach bar as the sun was setting.  We watch the bartender make the first drink, a Cubanito, a Cuban version of a Bloody Mary. Then he takes a sip, sighs and slyly asks us if we are ready for one.  We all say 'yes' and he says, 'great, hop behind the bar and make your own'. We all laugh and take turns trying to add the right amount of each ingredient the the help of the friendly and mildly terrified bartender.  After a few dropped ice cubes and too much Worcestershire sauce, we all sit down to watch the sunset. Our next drink is a daiquiri, and not a standard blended fruit cocktail but a rum, sugar and lime one. It was to die for!  After some food recommendations, we move to our final drink where we make a Mary Piggfoot. Another daiquiri variation with grenadine. Yum, all the yum! 
Havana is huge and traveling by bike is a great way to still hear and feel the city but get to see more of the off the beaten track part of the city.  We cycled further west out of the Vedado and over the bridge to Miramar and into Urban Forest.  We hopped off the road and cruised through the park along a dirt single track with the river just beyond. It was beautiful under the canopy with the birds chirping. It was a great escape from the sounds of the city.  Our next stop was the cemetery which is the second largest in the world. We continued around and eventually left and headed for Revolution Square where Castro gave his famous speeches. Lining the enormous square are the large metal art installations of Che and another important figure in Cuba's history.  
From here, we went to Central Havana and explored the university of Havana campus. It was a beautiful place with students sitting on the steps chatting or heading off to class. We made our way back to the Vedado and eventually to the Malecon and overlooked the sea. We ended our tour at a fabulous little juice bar that Ernesto knew about.  The fresh pressed juice was heavenly after a hot ride in the sun. Per usual, riding a bike is still one of my very favorite ways to see a city.

This is an incredible, authentic experience visiting a family in the rural countryside near Havana. It was a great break to get out of the city! 
I met my guide Yuri and her 12 year old son Kevin at Locos de Cuba for my trip to the Countryside.  I found I was the only attendee on the tour!  How does this keep happening to me? I am totally cool with it!  
We went upstairs to this famous cafe to eat a quick breakfast while gazing at floor to ceiling photos of famous people from around the world who have visited the cafe.  Yuri told me about her work as an economics professor at the university and how she met Patricia, the woman who started this experience and her husband's family who we were to visit in the country.  Kevin was less than enthusiastic to be on the trip and it was clearly not cool to go to work with mom. 
We hopped in an old Lada and headed towards the countryside. We almost made it out of the city before we encountered a road closure for a triathlon that was blocking the road.  The drivers all roll down their windows and talk to each other and ask to merge and see if anyone knows what's happening. No horns were used, just some casual jokes about traffic and polite merges. It was crazy! Eventually, they end up opening a lane of the road heading in the opposite side of the highway for us.  The east bound side of the interstate Is closed so they open the inside lane of the westbound road to east bound traffic. Cuban Solution. We make our way through and return out stop for a quick rest stop at a small roadside shop where Yuri picks up some peanut brittle and we all drink a Cuban coffee before continuing on.   The countryside is full of horses, cows and goats all roaming or tied to a tree. We turned off the main road onto a bumpy dirt road and wind through a small rural town before coming to a stop in front of Daniel's family house. They are clearly waiting for us as children, dogs and chickens all flock to car. After a foray of cheek kisses and being passed from one family member to another I ended up kneeling down to the youngest girl who promptly handed me the baby piglet she was holding and ran off.   Yuri frantically tried to translate all of the introductions amidst her own cheek kissing and once we all came up for air I had a piglet and a puppy in my arms. I was informed that the piglet was born two days ago and was the runt and needed to be separated to make sure he got more feedings than his siblings to catch up. Yep, that happened.  
The family consisted of Daniel's father, mother, brother, little sister and grandmother.  His cousin was also there with his wife and son. And I think there was at least one or two neighbor kids running around too.  After introduction and piglet snuggles, I was told to wash my hands and have some fresh guava. The ends of the tennis ball size fruit are cut off and then halved.  I was instructed to just bite into it and eat. The sweet meat of the fruit and the tart rind make a perfect combination. I inhaled two or three halves before even coming up for air.  After nibbling through another whole guava, we made our way out to the porch where the father handed me a spoon and poured some unbelievably fresh honey from the bottle onto the spoon. As I sat next to the bee box and tasted my honey, I watched the bees fly in and out of the box to all the fruit trees and flowers surrounding the house.  After the honey, we walked to the nearby forest where he showed me the coffee trees. We were brought out fresh espresso from coffee harvested and roasted at the farm, naturally, with a dash of raw sugar. We moved on to the plantains and banana trees. Magically, the little girl, Daniella, arrives with a basket of plantain chips hot from the stove.  Mind blown! So sweet and savory with a perfect crisp outside and chewy inside. Out back, the grandmother is cleaning the fresh tilapia caught from the stream that morning. Whoa.
We make our way to the pig pen where I see the other 14 piglets oinking, suckling or napping.  In the next pen over is a larger boar and a few goats. Raised above the ground are the pens for the multiple varieties of chicken, quail and rabbits.  We harvest the eggs for the day and create a basket full of eggs of all sizes and colors from large white eggs, medium brown eggs and the very small mottled dark quail eggs.  We bring those to the house and I am introduced to at least 5 different varieties of orchids growing in the nearby trees. We returned to our house and gathered our swimming clothes.  The dad, son, daughter, cousin, cousins son, Yuri, Kevin and I all left the house to explore the river. We wander through a beautiful forest will tall trees and beautiful meadows. We add a horse to our motley crew who is going to the water to drink and graze.  The kids rush ahead to the river and we take our time down the narrow trail down to the river. We drop our bags with the kids and head up the river to a cave. This beautiful sandstone cave overlooks the river and has a stunning wide opening. High above us, tiny bats hang in clusters in the shadows with s few taking flight to darker and quieter parts of the cave.  Yuri stays behind as the dad and Kevin and I continue onward, donning headlights and turning sideways to sneak through the narrow crevice. We scramble through the narrow crevices as the lead to larger, flatter areas of the cave with stalactites reaching down. Looking up, there are fissures running through the rock providing ample areas for tiers of sleeping bats to hang and sway.  There are also fissures running down and opening up to the river below. We avoid these and make our way scrambling over and around the sandstone path towards the end of the cave. The cave abruptly ends with a cathedral height vaulted ceiling that our headlights can't even reach the top of. The bats swirl around and dance with the beams of light. We take a moment at the end of the cave to turn off all of the lights.  On the count of uno, dos, TRES!, we all switch off our headlights. We are blanketed in completed and stifling darkness. The only noise over our slightly nervous breathing is the soft flapping of hundreds of tiny wings. After a minute or so, we turn the lights back on and make our way out of the cave. So cool!
We rendezvous with Yuri and navigate down to the beach to join the rest of the group who is already swimming in the river, jumping off rocks and paddling the inflatable rafts.  A coconut with a straw is kindly thrust into my hand as I am told to drink some of the water so that they can pour the rum in. I love it! These people do it right. This is no ordinary Havana Club rum but a special variety that is only made here in the mountains of Cuba that includes tiny guava fruit in the bottle of rum.  It was absolutely delicious! And so refreshing! Soon it was time to hop in the river and splash around with the kids and paddle to the small waterfall where we sat and had the water rush over our shoulders. Once everyone had enough coconut, Yuri ate at least 3 coconuts and took a 4th with her, we made our way up the trail, move the horse again and eventually back to the house for lunch.  The fish that we're being cleaning this morning have been cooked and ready to eat as well as the rice, black beans with peppers and onions, plantain chips. I look to Yuri for help as my experience eating whole fish is basically none. There was that one time in the Mekong Delta in Vietnam, but I didn't really do a good job eating that fish either. Yuri explains that Americans don't really eat fish this way so the father provided me with a step by step tutorial.  Step one, bite off the tail. Seemed as good a starting place as any. It was thin, crispy and pleasantly salty. Next, split open the sides from the bottom to separate the fish from the spine. Then you move to the fins and separate that area, leaving only the head. And apparently that's how to eat a fish. Now you know. You're welcome! I moved on to my next course of delicious rice and beans. More plantain chips and some water and I was happy as could be. For dessert, we had a small cup of guava custard.  It was heavenly. I was at this point that I realized that I need entirely more guava in my life at home.

After sitting and chatting for a while, we packed up and did another slew of cheek kissing and hugging before finally loading into the car and heading out.  On the long car ride home, Yuri and I talked about all kinds of Cuba social issues and her life there. She shared the highs and the lows of the Cuban Socialist society and how she, as most Cubans, have figured out a combination of ways to make ends meet.  Kevin sat in the front and streamed a constant barrage of questions to the grandfather about driving and cars and gas and shifting and the rules of the road. Yuri made some recommendations for places to try this evening and I was very excited to try them out.  We drove through the outskirts of Havana in slight drizzle and made our way through the Playa and Miramar neighborhoods to the west before finally dropping me off at my house.
You simply can't go to Havana and not go dancing! I was in desperate need of lessons and dancing with a teacher and overlooking the rooftops of the city was exactly how to do it!
The green 1957 Chevy taxi that picked me up for my lesson was exactly not at all what I expected.  While beautiful, the interior of the Chevy was a mismatched combination of parts from various other automobiles including a Kia steering wheel and a Dodge shifter.  A small stash of tools was perched on the dash for what seemed like daily maintenance. The beautiful images of the old cars are not revealing the whole picture. They are full on Cuban Solutions.  Whatever parts are available to fix a 50 year old car is what is used.  I hopped out of the antique and headed upstairs for my Salsa Lesson!
The Salsa studio was a rooftop studio overlooking the city and the afternoon sun landing on the roofs below.  I was quickly welcomed and ushered to meet Ariel, my instructor for the afternoon. We started with the basic steps and quickly progressed from there.  A younger Aussie couple and their parents joined us a few minutes later but we each danced at our own pace. Ariel was patient with my missteps and we did a few turns again and again until I finally got them down.  I realized fairly quickly that my previous salsa lessons had left me wanting and the larger internal struggle that I actually could not hear the 8 count of the rhythm in the music. This is what I get for having all of my eggs in the visual and kinesthetic baskets.  After Ariel pointed this out, he made me try to find the beat and count the steps. It was hopeless and eventually we reverted back to his confident 1,2, 3 - 5,6,7. After two hours of spinning, twisting and dipping, the lesson came to a close and I finally felt like I had made some progress!  I signed the wall with all of the other students past at Salsa Express and then hopped back in my old green Chevy and headed home.
Relaxing and unwinding in the forest while Lis guided me through a yoga session was one of my favorite experiences. It was great to stretch and move after walking so much.
I knew I liked Lis from the moment I met her.  Her calm yet powerful demeanor and quick laugh made for easy conversation.  We strolled across the bridge and walked down into the park. We set our mats up on pier over looking the river.  It was so tranquil and relaxing. It felt so nice to stretch out and release some of the tension that had been building over the last few days of nonstop walking. After a beautiful yoga session, Lis poured some tea and we got to know each other.  She has a tortoise that she rescued and an Italian boyfriend. She left her professional career as a software engineer to peruse yoga and wellness, a new frontier in Cuba. We rolled up our mats and Lis offered to go to dinner.  I was so thrilled for her company and eager to hear where local vegetarians went to eat in Havana, as Lis was a vegetarian.  We walked and talked and worked our way to Vampirio, a little basement type restaurant in the Vedado. You could tell it was good because there were 7 or 8 people lingering outside and a constantly departing Vespa with delivery orders.  We approach the waiting group and Lis asks "ultimate?" and a young couple nods.  I realize that this is a self regulating waiting line. The server walks upstairs and just asks who's next and the group knows. What an interesting approach!  We sit on the bench and wait our turn and Lis and I laugh over our shared people watching passion and when she asks if I ever look at people and try to make up a story about their life, I know we were meant to be friends! Once seated, we order juice and the vegetarian sandwich that Lis is raving about.  I will never get over how delicious the fresh juice is! The sandwich was wonderful too! The fresh soft bread here is amazing with a mix of picked and fresh veggies, it was perfect! After dinner, we sit and linger and Lis informs me that we must have the "French toast" for desert. I am fascinated by this idea and when it arrives, the syrup made from a fruit reduction sauce and I dig in and shocked to find that it is served cold!  The bread had been dipped and pan fried but was then chilled. It was absolutely amazing!
My Fabric of the City experience began at Cafe Mamaine, a little artist mecca with musicians and artists everywhere. I meet Emilio and Manuel and we share a coffee and get to know each other. Emilio is a graphic designer and Manuel does large scale interactive art installations.  They are such warm and open guys and I am excited to spend the day with them. It's so fun to spend time with people who have a similar background and passion for design and creativity in a city so different. 
For this AirBNB experience, we are going to photograph Cuba and then create a memento book that is inspired by Cuban ration book.  Emilio explains about how every family is given a ration book to use. Each month, the family is entitled to so much sugar, rice, etc. Totally interesting!
We leave the cafe, cameras in hand and move through the city with the intention of capturing Cuba's little moments.  They then explained the "Cuban solution". This phenomenon is when there is a problem that has been resourcefully fixed and improvised.  For example, a light needs a light shade, so a 5 liter soda bottle is cut to be able to shield the light. It was never meant to be a long term fix, but it has been in place for years.   It's a very unique approach to problem solving! As we wander through the city, we see lots of different "Cuban Solutions". We walk through a Russian ration store and there are bushels of potatoes, sacks of flour and sugar.  Outside there we all of the other essentials including household wares, all kinds of tropical fruits, and miscellaneous pieces and parts of just about everything.  They explain Cuban life and answer my constant barrage of questions as we photograph anything that interests us. 
For the afternoon, we returned to their studio in Manuel's house to print the photos we took earlier in the day and begin creating the book.  In addition to running the experiences, they do photo shoots and print photos. They plan to open their own print shop in Havana and are trying to get the space ready. Inspired by the ration book, it has a cardboard cover with the ration information contains sheets of handmade paper from their studio as well as newspaper papers and other patterned cardstock.  The empty object alone is beautiful! We arranged my photos and worked together to create interesting collages and pairings. In some areas, we cut out parts of the photo, in others we added a stamp or letters or even a piece of the rope that we bought that day. It was such a fun experience to work with them. The intuitive nature of designers is wonderful and it was a fabulous collaboration. The book is an incredible memento of the trip! 
Caitlin Blythe
Waypoint Goods // Owner & Founder
Caitlin began Waypoint Goods to help and inspire women to get out and travel while feeling safe and fashion forward.  She creates custom patterns and designs for the travel scarves based on her travels. Her past life as an architect makes the brand contemporary and modern while focusing on empowering women to travel.